About Expert Witness Testimony & Consulting
Find the truth. When you do, your story is easier to tell.
Expert analysis is rooted in developing a hypothesis, testing it, proving (or disproving) it and finding ways to strengthen your position – while still aware of the weaknesses or flaws in your own armor. The expert witness is in a constant mode of playing 'devil's advocate' with his or her own analysis.
Because rest assured, your adversary is charged with doing the same thing. You must know your position better than your opposition – and be prepared to defend it, under intense scrutiny and cross-examination.
Below is the 'pyramid' of progression, showing the life cycle phases of investigation or forensic analysis, ultimately culminating in expert witness testimony. Completing the analogy of building the 'body of evidence' in the forensic process, preparing the expert report and providing expert witness testimony places the 'skin' on skeleton, muscles and organs, wrapping it all in place.
Life Cycle Phases of the Forensic / Investigative / Expert Witness Process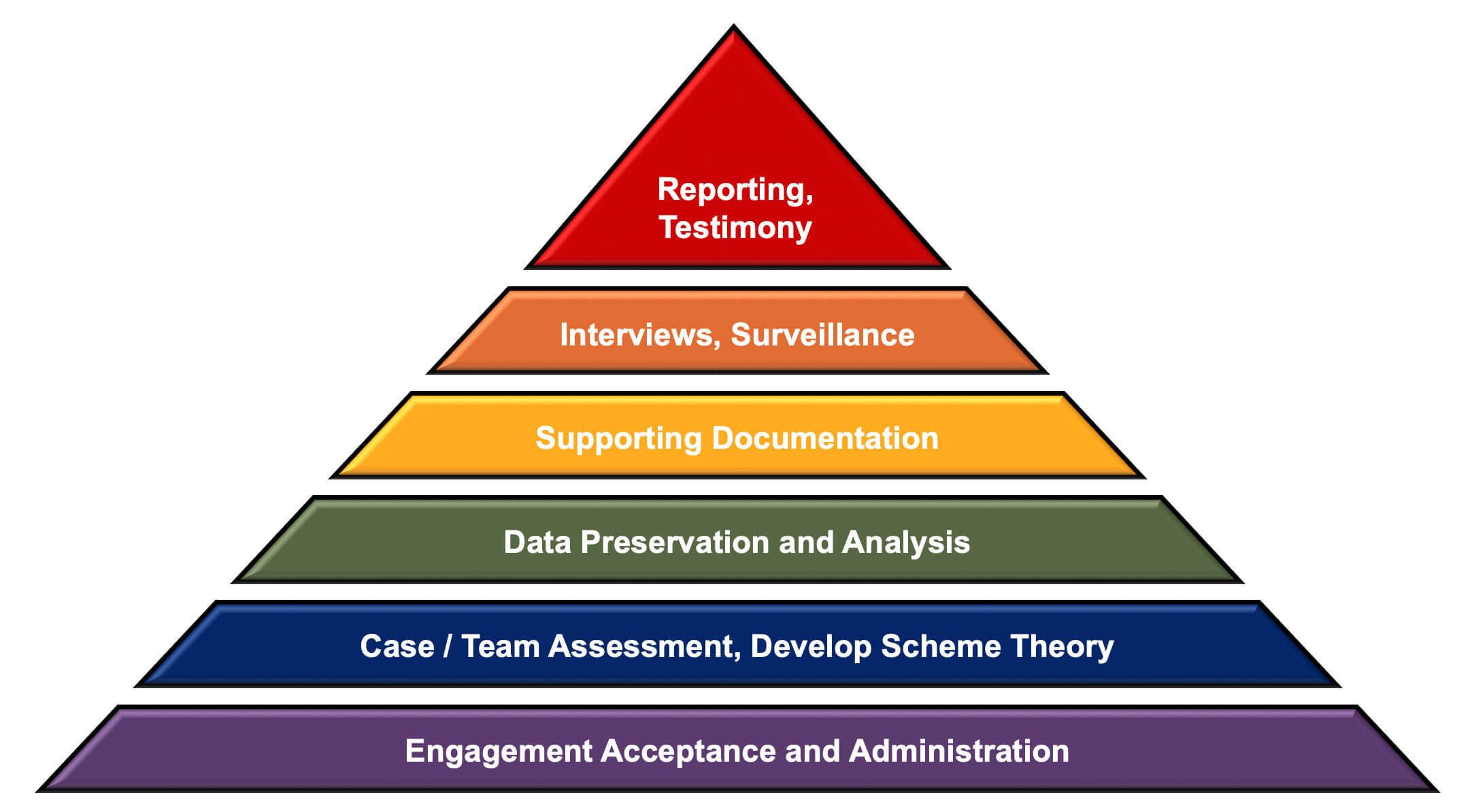 Blending art with science
The best expert witnesses are consummate communicators and translators, helping clients navigating the rough waters of disputes. Our clients include governmental agencies, corporations, boards of directors, prosecutors and litigators.
By the numbers
In hundreds of cases over two decades, testimony may only be required in one tenth (10%) of them.
Settlement, versus Testimony
In experience, about 90% of our cases settle before trial or testimony is required. Our objective it to build a case that is strong and sound enough to mitigate costs of litigation, defense or prosecution.
Analyze, interpret and communicate the facts. Then make it easier for the audience to understand.
Consulting
As a consulting expert, our work is protected under the Attorney-Client Privilege, until or unless we are identified as a testifying expert.
Testimony
We have provided expert witness testimony in criminal and civil cases, in State and Federal court, before grand juries, in deposition, arbitration and mediation.
Pre-trial advisory
We regularly provide candid pre-case assessment and advice, on the merits and flaws of case, helping clients to 'weigh case economics.'
Court-appointed Neutral
We also serve as an objective 'referee' in disputes, providing unbiased analysis and opinions.
Dispute Advisory Services and Litigation Support
For special matters and situations, it requires a special person. At Sawyer & Company, we are Specialists and Experts. Generalists, we are not. And never want to be. We are the top tier in our individual areas of expertise.
Our firm's experts have served as consulting or testifying expert in literally hundreds of cases through decades of experience, advising on cases in which tens of millions of dollars are at stake. We have made expert witness appearances in Federal, state and bankruptcy court, the U.S. Court of Claims and in mediation or arbitration.
If not serving as an expert witness in the courtroom, arbitration, mediation or negotiation, our team of professionals consult with businesses, governments and attorneys, many times under protection of the attorney-client privilege. On occasion, we also serve as a mediator / arbiter or court-appointed neutral.
We are a nimble, multi-disciplinary, cross-functional team of deeply seasoned professionals, bringing specialized expert and consulting services to the table in one small place and package.
Our strategy and objective: To pair you and your team with the best possible expert and tailor a plan to resolve your unique, individual situation.
Calculation of Economic and Financial Damages
In a business dispute, litigation or investigation, there will exist at least two opposing theories of what economic or financial damage has been caused by a certain event, action or circumstance. Enter Our firm's financial experts.
While the role of the client's legal counsel is to be an advocate for their client's position, the financial expert must prepare analysis and testimony which follows professional standards and a rational, systematic, pragmatic, re-performable approach that will stand airtight and bulletproof in the face of cross examination by opposing counsel and the opinion of the opposing expert witness.
We provide the solution, by following plausible theory and modeling for financial and economic damages – and multiple scenarios, if needed. Then, whether in civil litigation, criminal prosecution, arbitration or mediation, we translate complex or esoteric financial concepts or analysis in a way that is lucidly communicated to a trier of fact.
The recovery, preservation and analysis of data goes 'hand in glove' with litigation support, forensic accounting and consulting. Through Our firm's long-standing, trusted strategic partnerships and co-sourcing arrangements, we provide an integrated team for:
E-Discovery (Data Recovery and Preservation)
Data Analytics
Intelligent Avatar
Cyber Profiling
You or your client may be contemplating a transaction – whether an outright sale, a new member, a gift, estate plan or ESOP. Or perhaps you are involved in a shareholder dispute. Maybe you require an opening balance sheet for a newly acquired business. Or you could be in the final stages of a restructuring and face a plan of reorganization hearing. Expert analysis and testimony may be necessary.
Our firm's experts have been engaged to provide more than 100 business and intellectual property portfolio appraisals. Our experts are certified in business valuation by the American Institute of CPAs.
Our cross-functional expertise in dispute resolution and turnaround / restructuring provides current and practical insights in a variety of industries. Some novel businesses we have appraised include entertainment and music, digital currency, life sciences, celebrity value, architecture, aerospace / defense and a professional sports franchise – not to mention traditional 'brick and mortar' industries.
Business Transformation:
Restructuring, Turnaround,
Receivership / Trustee / Examiner,
Bankruptcy / Insolvency

You – or your client – lost a key customer or suffered a significant financial loss, and the future is, at best, uncertain.   A lending covenant could be lost, or at risk. Perhaps the loan was called.   You need assistance negotiating with the lender.  Usually the symptom – a cash shortfall – is apparent, but the cause may not be so clear.  Or, you might be a lender, with a credit in a similar situation. 
Expert
proof analysis and execution is necessary.
Our experts have been engaged in more than 50 distressed situations, typically by the company, and occasionally by lenders or other creditors.  In certain situations, our experts have been engaged as a fiduciary (trustee or receiver) to be conservators of the assets.
Our cross-expertise in dispute resolutions and valuation provides current and practical insights.  Recent matters include the following industries: technology staffing, cell phone case manufacturer, biofuel plant, water bottling and advertising.
Healthcare Dispute Advisory
Our firm's Healthcare Dispute Advisory (HDA) experts have conducted hundreds of audits and investigations covering 40 states and provided expert testimony (both in civil and criminal trials in federal and state courts, for plaintiffs and defendants) involving hundreds of hospitals, physicians and other healthcare providers, insurance carriers and government agencies.
We work with attorneys, CPA's and Healthcare Providers nationwide seeking independent investigations, compliance consultants, advice by industry professionals, or expert witness reports and testimony.
HDA brings together the range of specialized talent needed to address most cases involving concerns about. We provide healthcare dispute advisory expertise in the following areas, to name a few:
Medicare or Medicaid compliance
Reasonableness of medical charges
ICD or CPT coding
Facility or professional fee billing
Clinical documentation
Statistical sampling
Medical or economic damages
Electronic health records
Health insurance
Forensic accounting
Concerns about:
Proper reimbursement
Adequacy of clinical documentation
Accuracy of coding
Quality of care
Allegations of:
False claims
Medicare or Medicaid fraud
Antitrust violations
To expound upon the firm's core group of credentialed experts, our Healthcare Dispute Advisory Practice experts supplement our team with:
Advanced Coding Specialist – Anesthesia (ACS-AN)
Certified Coding Specialists (CCS and CCS-P)
Certified in Healthcare Compliance (CHC)
Certified Evaluation and Management Coder (CEMC)
Certified Forensic Interviewer (CFI)
Certified Health Care Auditor (CHCA)
Certified Legal Nurse Consultant (CLNC)
Certified Manager of Patient Accounts (CMPA)
Certified Managed Care Professional (CMCP)
Certified Medical Practice Analyst (CMPA)
Certified Patient Accounts Representative (CPAR)
Certified Professional Coder (CPC and CPC-H)
Certified Professional Medical Auditor (CPMA)
Testimony, in Diverse Venues
Government
Public Corruption, Self-Dealing, Overspent Contracts
Investigation / forensic accounting for County Board of Commissioners, in connection with activities by former County Attorney and various County departments. Findings included waste / abuse of more than $25 million by former County Attorney, for failed permitting, development and construction for lake reservoir; misuse of more than $42,000 by County Commissioner for benefit of his 501(c)3 organization; use of County facilities by Recreation Director for his personal benefit of nearly $12,000.
Not-for-Profit
Self-Dealing, Embezzlement, Employee Theft, Fraud & Abuse
Forensic accounting / investigation, in conjunction with local law enforcement, for diversion of funds, shell companies and personal use of credit cards. Provided expert witness testimony at criminal trial. Jury returned guilty verdict on all 11 counts, in less than 15 minutes. Co-conspirator pled guilty prior to trial.
Government /
Capital Murder
Computer / IT Forensics, Evidence Preservation, Capital Murder
Forensic data recovery and analysis of victim's home computer, on behalf of defense counsel. Testimony considered and addressed prosecutorial misconduct, as well as the effect of failure to follow proper forensic and investigative procedure by law enforcement.
Products &
Manufacturing
Stakeholder Disputes / Calculation of Economic & Financial Damages
Forensic accounting / expert witness in shareholder dispute, for defense counsel of Fortune 100 industrial machinery manufacturer. Calculated rebuttal of financial damages related to joint venture to produce eco-friendly / integrated filtration devices.
Real Estate /
Development /
Construction
Stakeholder Disputes / Calculation of Economic & Financial Damages
Investigation and forensic accounting analysis of $14 million condominium development, involving diverted payments by general contractor and non-payment to sub-contractors.
Construction
Self-Dealing, Embezzlement, Employee Theft, Fraud & Abuse
Forensic accounting / expert witness for plaintiffs in shareholder dispute. Analysis revealed that opposing shareholder diverted at least $600,000 in company funds to construct his own personal residence, as well as conceal self-dealing from other shareholders.
Waste Hauling &
Disposal
Stakeholder Disputes / Calculation of Economic & Financial Damages
Calculation of diverted revenue and lost profits due to breach and non-performance of contract. Investigation included consideration of securities fraud, earnings management, circumvention of internal controls and misuse of shareholder investment and contributed capital, resulting in a damages award of more than $35 million.
Government
Process, Risk and Internal Controls
Expert witness testimony for defense counsel representing employees terminated as a result of internal auditing and reporting, which was performed in conflict with professional standards.
Transportation &
Logistics
Stakeholder Disputes / Calculation of Economic & Financial Damages
Investigation and forensic accounting analysis of fraudulent use of a multi-national Fortune 200 company retirement and pension program.
Real Estate /
Development
Stakeholder Disputes / Calculation of Economic & Financial Damages
Calculation of financial damages as a result of alleged fraudulent activity by employees of rental management company.
Products &
Manufacturing
Stakeholder Disputes / Calculation of Economic & Financial Damages
Analysis of Fortune 25 heavy equipment and construction business and economic factors in defense of claim of alleged financial damages.
Banking &
Finance
Mortgage Fraud
Cash flow analysis of funds usage by co-conspirators in sentencing phase of multi-million-dollar mortgage fraud scheme.
Government
Public Corruption, Self-Dealing, Bid Rigging & Kickbacks, Overspent Contracts
Forensic accounting investigation, in coordination with the Office of the District Attorney and Grand Jury, relating to depletion of a fund balance of more than $20 million, for a municipality with annual budget of $85 million. Identified transactions indicating potential corruption activity, including bribery, kickbacks, and bid rigging, as well as money laundering and ghost employees. Referred case findings to United States Attorney's Office, which attracted interest from five federal agencies, to continue investigation at the Federal level.
Family Law,
Trusts &
Estates
Stakeholder Disputes / Calculation of Economic & Financial Damages
In connection with marital dissolution, performed forensic accounting and asset tracing through shell companies, depicted in complex and summary flowchart diagrams. Analysis resulted in multi-million-dollar favorable settlement for our client.
Hospitality &
Entertainment
Bankruptcy, Insolvency, Restructuring & Turnaround Services
Prepared forensic financial analysis and qualified as testifying expert (testimony not required) on behalf of the United States of America (Department of Justice, U.S. Attorney's Office) in connection with bankruptcy fraud case and related investigation of asset concealment.
Family Law,
Estates &
Trusts
Stakeholder Disputes / Calculation of Economic & Financial Damages
Forensic accounting / counter expert for member of family trust / estate. Critique / rebuttal of plaintiff's financial expert's testimony.